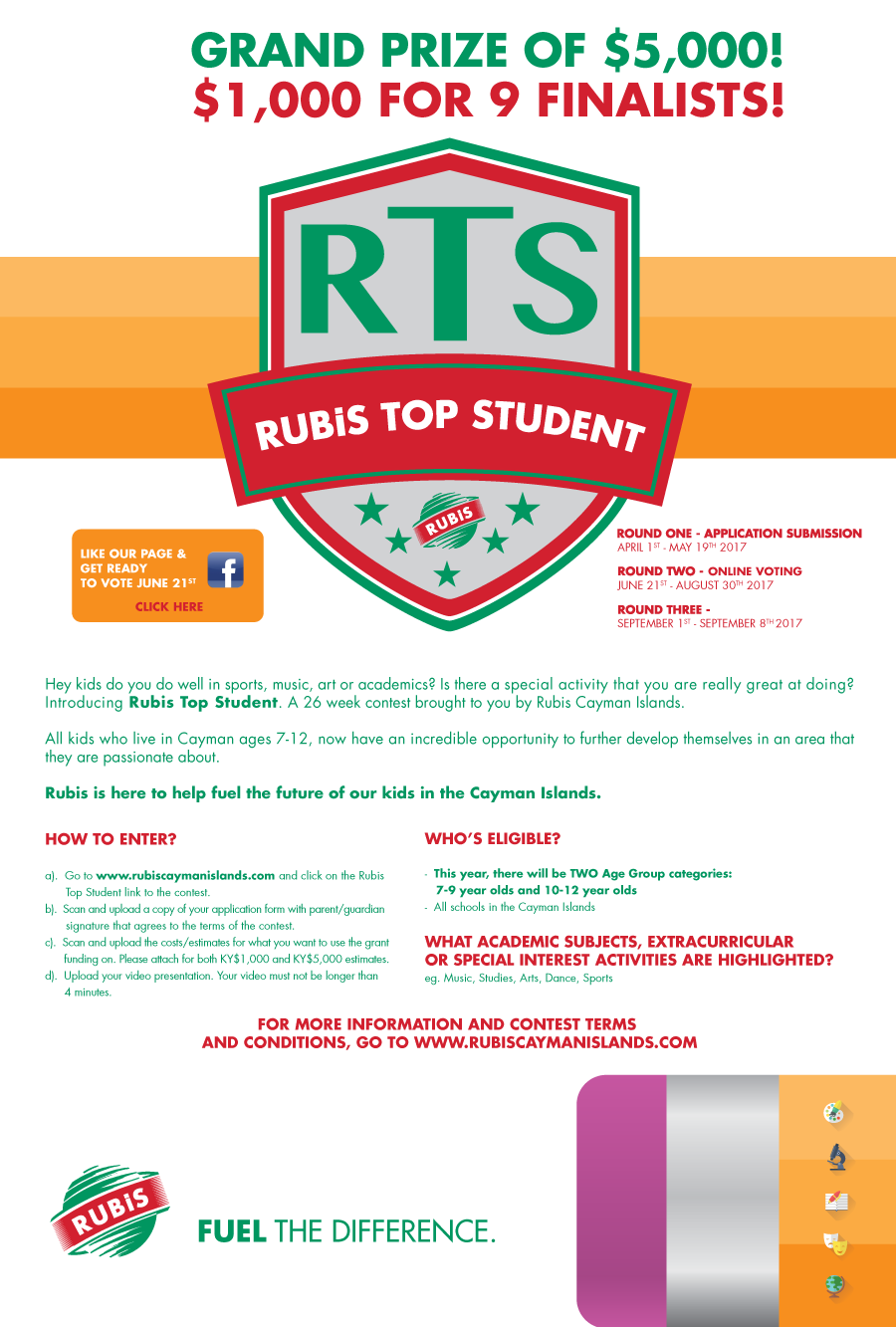 RUBIS TOP STUDENT CONTEST TERMS & CONDITIONS
RUBIS TOP STUDENT CONTEST (the "RTS CONTEST")
The RTS Contest is a 26 week campaign designed by Rubis Cayman Islands Limited ("Rubis") to identify, reward and motivate young students who excel in areas of study or extracurricular activities in the Cayman Islands.
1. AWARDS
There will be 10 individual grants awarded to 10 different students (the "Awards"). The top award is a grant of KY$5,000 (the "Top Award") and 9 other grants of KY$1,000 each. For the avoidance of doubt no student can be awarded two grants.
2. WHO MAY ENTER
The RTS Contest is open to all students resident in the Cayman Islands who are between the ages of 7 and 12 at the time of submission deadline and who exhibit excellence in any particular area of interest for example, fine arts, performing arts, sports or academic achievement. Please note this list is not exhaustive and the requirement is to show exceptional skill and outstanding talent.
You must have permission from a parent or legal guardian who will be required to provide their consent.
3. HOW TO ENTER
a. Obtain the Rubis Top Student application and contest rules/terms and conditions by visiting www.rubiscaymanislands.com or www.facebook.com/rubistopstudent OR by requesting an application pack from your school.
b. Complete the Rubis Top Student application form and have parents or legal guardians sign, agreeing to terms of the contest.
c. Create an original video presentation not exceeding a total duration of 4 minutes which demonstrates excellence in your chosen field and submit this video in accordance with the procedure set out below:
Students are to confidently introduce themselves on camera.
< > are to clearly state and provide proof of excellence in their
Students are not expected to submit a professionally produced video
segment. We are looking for genuine effort from each student with clear
parental consent/acknowledgment being required.
The video presentation must clearly address the following:
i. Introduction: What is your name, age, school you attend and district you live in?
ii. Excellence: Explain what/how you excel in academics or in extracurricular/special interest activities.
iii. Excellence: Demonstrate/showcase how you have excelled in the area of interest.
iv: Development: (a) What would you do with $5,000 or $1,000 to improve your skill or talent? E.g. List a programme, equipment, camp, extra lessons, etc.
d. Please provide a reference from a teacher as well as a character reference from an individual who is not a family member but who has known you for a period of at least 2 years.
Applications submitted without all required information and the required parental consent will result in automatic disqualification from the contest.
e. Students with help from parents or legal guardians are to provide quotes or invoices on how the grant will be used to develop their area of interest, if they were selected as one of the winners. The quotes or invoices presented should be for the sum total of the grant of $5,000 and $1,000. You may submit more than one quote in order to ensure you account for the total amount of the grant.
f. By entering the RTS Contest, all entrants (and their respective parents or legal guardians) agree to all of these terms, including adherence to the Conditions of the Award as set out below.
g. No entrant may submit more than one application.
h. Submission: Go online to https://creativepeople.formstack.com/forms/rubistopstudentcontest2017 to complete your submission registration checklist and then upload:
Scanned copy of your completed Rubis Top Student application form with parent/guardian's signature.
Scanned documentation of the required quotes or invoices to show how the grant will be used. Must submit quotes or invoices totalling $1,000 and $5,000.
Your video presentation.
Fully completed applications must be submitted between 1 April 2017 and 19 May 2017 closing at 5 PM on 19 May 2017 (the "Submission Deadline").
4. JUDGING PROCESS
The RTS Contest will consist of two rounds of evaluation:
Each week, a group of videos (in their respective categories) will be displayed on www.facebook.com/RubisTopStudent for public voting from June 21st – August 30th. The video with the most likes that week will be automatically placed in the finals. In the event of a tie during the week's public voting both videos will be included in the finals.
Once the top 10 finalists have been selected, a panel of 5 independent judges will review and evaluate their applications and video presentations (the submissions) from September 1st to September 8th and will select the $5000 winner based on;
Clear presentation by the student, video content and video within the 4 minute timeline.
Proof of Excellence:by the student and what they want to use the grant for/on.
Creativity and innovation from the student.
The input from the students 2 references.
The announcement of the winners of the Awards will be made on 10 September 2017 at 6pm and parents/legal guardians of the recipients of the Awards notified in writing on September 9th 2017.
5. CONDITIONS OF THE AWARD
The Top Winner shall hold the Rubis Top Student Title – Overall Winner and Alternate Winners "Title" for the year September 2017 to September 2018 and will be presented with a certificate at an awards ceremony on 27th September 2017 (the "Awards Ceremony").
Each of the winners will be required to participate in a photographic session during the Awards Ceremony and a follow up promotional appearance including pictures, video interview on a date in January 2018 to be announced by Rubis Cayman Islands Limited.
The winner of the Top Award will be required to make an additional promotional appearance at the 2018 Awards Ceremony on a date to be announced by Rubis Cayman Islands Limited.
Each of the winners shall conduct himself/herself with decorum and shall not commit any act of an immoral or illegal or other similar nature which in the reasonable opinion of the Judges will bring the Winner or Rubis Cayman Islands Limited or the Rubis brand into disrepute or contempt.
Each of the winners shall be provided with a cheque representing the amount of their Award for the programme, equipment, classes etc. based on the quotes provided within the application submission.
Should any winner not comply with the requirements set out in these conditions the Judges may, at their entire discretion, refuse to provide the Winner with any or the entire Award amount and also revoke the students' title for the year.
6. LICENCE
Personal information will only be collected, used and disclosed by Rubis and their respective designees for the purpose of administering the RTS Contest and in accordance with these terms and conditions. Each entrant retains the copyright to his or her video presentation but explicitly grants Rubis, its authorised representatives and designees, an irrevocable, nonexclusive licence to use his or her video presentation for marketing and promotional purposes. Any disclosure of images and videos by RUBIS will be limited to the purpose of facilitating the Public Vote and for RUBIS' promotional and marketing purposes only. Parents/legal guardians of each entrant hereby waive all moral rights in and to the videos in favour of RUBIS. RUBIS shall not be obliged to pay any consideration or seek any additional approval in connection with the use of the videos presentations of the entrants.
7 .LIMITATION OF LIABILTY AND RELEASE
RUBIS, its directors, shareholders, employees, representatives, agents including but not limited to RUBIS' advertising, public relations, promotions and direct marketing agencies, and other entities related to this promotion (the 'Released Parties") are not responsible for any accidents, claims, damages, losses or injuries of any kind whatsoever that (a) may occur while participating in the RTS Contest or (b) arises in connection with the RTS Contest. Each entrant (and their respective parent or legal guardian upon signing the application form on behalf of the entrant) agrees to release, indemnify and hold harmless the Released Parties from any and all claims arising from the RTS Contest.
RUBIS' responsibility is limited to providing the Awards to the selected Winners that comply with these terms and conditions. By entering the RTS Contest, the entrant agrees to be bound by these terms and conditions, which are not assignable. Notwithstanding anything contained herein, RUBIS reserves the right at any time, in its sole discretion, to amend, add and/or delete any of these terms and conditions without notification and all applicants shall be bound by such amendments, additions and or deletions. The construction, validity, interpretation and enforceability of these terms and conditions will be governed in accordance with the laws of the Cayman Islands.