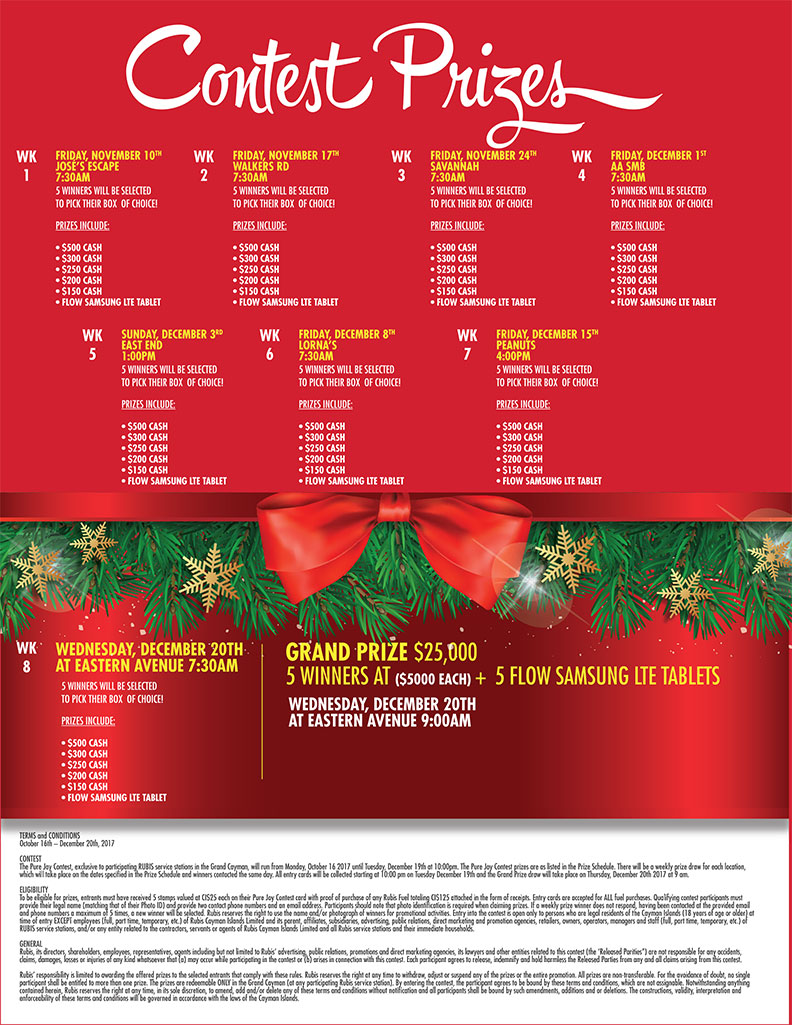 Rubis "Pure Joy" 2017
TERMS and CONDITIONS
October 16th – December 20th, 2017
CONTEST
The Pure Joy Contest, exclusive to participating RUBIS service stations in the Grand Cayman, will run from Monday, October 16 2017 until Tuesday, December 19th at 10:00pm. The Pure Joy Contest prizes are as listed in the Prize Schedule. There will be a weekly prize draw for each location, which will take place on the dates specified in the Prize Schedule and winners contacted the same day. All entry cards will be collected starting at 10:00 pm on Tuesday December 19th and the Grand Prize draw will take place on Thursday, December 20th 2017 at 9 am.
ELIGIBILITY
To be eligible for prizes, entrants must have received 5 stamps valued at CI$25 each on their Pure Joy Contest card with proof of purchase of any Rubis Fuel totaling CI$125 attached in the form of receipts. Entry cards are accepted for ALL fuel purchases. Qualifying contest participants must provide their legal name (matching that of their Photo ID) and provide two contact phone numbers and an email address. Participants should note that photo identification is required when claiming prizes. If a weekly prize winner does not respond, having been contacted at the provided email and phone numbers a maximum of 5 times, a new winner will be selected. Rubis reserves the right to use the name and/or photograph of winners for promotional activities. Entry into the contest is open only to persons who are legal residents of the Cayman Islands (18 years of age or older) at time of entry EXCEPT employees (full, part time, temporary, etc.) of Rubis Cayman Islands Limited and its parent, affiliates, subsidiaries, advertising, public relations, direct marketing and promotion agencies, retailers, owners, operators, managers and staff (full, part time, temporary, etc.) of RUBIS service stations, and/or any entity related to the contractors, servants or agents of Rubis Cayman Islands Limited and all Rubis service stations and their immediate households.
GENERAL
Rubis, its directors, shareholders, employees, representatives, agents including but not limited to Rubis' advertising, public relations, promotions and direct marketing agencies, its lawyers and other entities related to this contest (the 'Released Parities") are not responsible for any accidents, claims, damages, losses or injuries of any kind whatsoever that (a) may occur while participating in the contest or (b) arises in connection with this contest. Each participant agrees to release, indemnify and hold harmless the Released Parties from any and all claims arising from this contest.
Rubis' responsibility is limited to awarding the offered prizes to the selected entrants that comply with these rules. Rubis reserves the right at any time to withdraw, adjust or suspend any of the prizes or the entire promotion. All prizes are non-transferable. For the avoidance of doubt, no single participant shall be entitled to more than one prize. The prizes are redeemable ONLY in the Grand Cayman (at any participating Rubis service station). By entering the contest, the participant agrees to be bound by these terms and conditions, which are not assignable. Notwithstanding anything contained herein, Rubis reserves the right at any time, in its sole discretion, to amend, add and/or delete any of these terms and conditions without notification and all participants shall be bound by such amendments, additions and or deletions. The constructions, validity, interpretation and enforceability of these terms and conditions will be governed in accordance with the laws of the Cayman Islands.